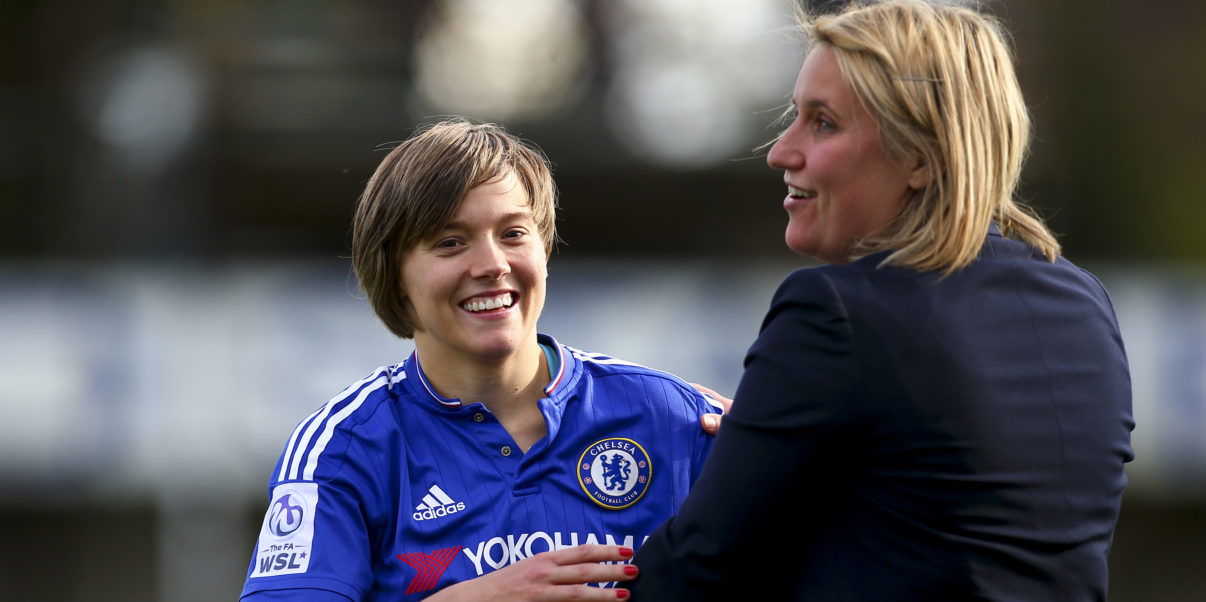 Chelsea will go into next weekend's Women's FA Cup Final against Arsenal on a high after beating Liverpool in a pulsating game at Staines' Wheatsheaf Park.
Fran Kirby and Drew Spence each bagged a brace in the win, but not before the visitors gave the Blues a scare in a game where Chelsea were giving out free shirts to all supporters.
Twitter: 3 points, great goals & still unbeaten. Hope all the fans love their new shirtsHard work & focus now on Wembley! https://t.co/kv6lA6Lzzb (@EniAlu)
From kick off, and without the home side touching the ball, Katie Zelem found herself in space thirty yards out and curled an unstoppable ball past Chelsea stopperHedvig Lindahl. 30 seconds in, and the hosts were shellshocked.
Soon though, the hosts got a foothold in the game and were back to Chelsea we all recognise; neat, passing football, with the odd of flair. Karen Carney latched onto Kirby's through ball, rounded Liverpool keeper Siobhan Chamberlain and gave Chelsea a smart equaliser.
It wasn't long before the hosts turned the game on its head. Kirby, who tirelessly all game combined well with Aluko, found herself under pressure from Liverpool's defence, but two nutmegs and some fine shimmying later, it was 2-1, as she slotted in the second.
With the mercury hitting 25 degrees, the referee called a drinks break. Perhaps a change for Liverpool to regroup and let the game settle. Not in Emma Hayes eyes, as she rallied the troops again for a rousing finish to the first period.
Eni Aluko raced down the right wing, and found Drew Spence unmarked in the box to make it 3-1.
There was still time for a fourth before the break as Aluko, who so unselfishly passed for Chelsea's third, kept the ball for herself this time, and drove the ball into the net from a tight angle.
The half time couldn't have come early enough for Liverpool, who had already lost to the hosts two weeks ago in Widnes. Whilst many would have been forgiven for saying the game was over, the Reds start to the second half cued another flurry of goals.
First Caroline Weir, with a free kick, and then Emma Lundh scored two goals in as many minutes to reduce the deficit to just one goal. This sparked life into a Liverpool side who had rarely threatened Chelsea's goal, and they soon found the firepower to have a go at Chelsea's back four.
As ever this season though, Chelsea held strong, and this time it was their turn to have the attacking play. Aluko and Kirby combined again for Chelsea's fifth goal, as the latter placed the ball in the bottom corner with a sweet left footed strike, fed from Aluko's through ball.
It was perhaps harsh on Liverpool, who had tried in vain to get their way back into the game, but it is credit to Chelsea's defiance that saw the reigning champions round off the win.
A truly remarkable game was finished off by Drew Spence. Kirby, going for the hat trick, found space in the box, but was denied by Mayumi Pacheco. Her deflection fell to Spence, whose quick reaction saw goalkeeper Chamberlain flustered, and it was 6-3.
CHELSEA XI: Lindahl, Blundell, Bright, Flaherty, C Rafferty, Spence, Chapman (c), Aluko, Ji, Carney, Kirby.
LIVERPOOL XI: Chamberlain, Harding, Bonner (c), Van Den Berg, Greenwood, Ingle, Longhurst, Zelem, Van De Sanden, Weir, White.
Attendance: 2406
---